With many work positions moving online, and recent recognition that online can be much more efficient for so many things that we thought HAD to be in person, a lot of businesses, churches, and organizations are growing to realize the importance of connecting with their social media followers online.
While I would emphasize the importance of getting it done rather than getting it perfect (now is not the time for perfectionism – never is), is it true that increasing the quality of your video to a minimum standard does result in longer viewing time and more engagement (likes, comments, and shares).
Here are 7 ways to improve your next live video on Facebook, YouTube, Instagram or Twitter
Be in a quiet space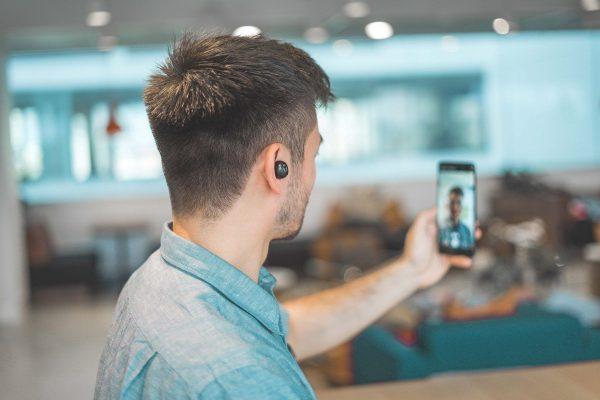 This may seem obvious, but it's increasingly difficult from home. Sometimes your co-workers (ie. kids and pets) can't just move to another space or know how to keep it down while you're making a live video from the kitchen table.
Trying to address your audience while the dog barks in the background or your kids ask you to put new batteries in their favorite toy siren is just plain distracting, making your viewers switch away or keep scrolling.
It's not always possible to be in a silent space (if an ambulance drives by with sirens, there's nothing you can do about that), but be intentional about going live during your kids nap time, while on a walk, in the evening after bedtime, or in your own space.
The less obvious distractions are fans, vents, or wind noise if you're outside. As much as possible, get into a quiet space where you won't be disturbed and you can focus on connecting with people watching your video.
Use a microphone
This doesn't mean you have to jump on Amazon and wait a few weeks before your mic arrives. Using the headset that came in the box with your phone or Bluetooth headphones with a built-in mic can reduce the ambient noise around you and make your voice clearer.
Your goal is not to sound like a radio announcer but to bring clarity to your voice so viewers can understand what you're saying without distraction.
Lighting
No shame: I've gone live from the kitchen with a table lamp behind my laptop with the shade off. Don't hurt your eyes stating into a 100-watt bulb (the squinting won't translate well on video anyway) but be in a room with ambient light from the sun, open the curtains if the window is beside you or in front of you, and turn on ALL of the lights in the room as long as they're not behind you.
Be sure light sources are in front of you, not behind you. Light sources behind you (like open windows or lamps) will cause your camera to adjust to the brightness from the window and turn you into a silhouette.
In these 2 shots below from the webcam built into my laptop, the only difference is that the patio door's blinds are open on the left and closed on the right. The room lighting is the same in both cases.
On the left, the camera adjusts to the brightest point on the screen (the sun outside) and on the right, it adjusts to the brightest point (probably my forehead glare?)
Side note: I haven't shaved for a few days… I'll get that done once I'm done this blog post…
Ask for engagement
Every 4-5 minutes of your video, ask for engagement from your viewers. Engagement drives the organic reach of your post so more people will have a chance to see your video. Ask your viewers to like your post, or ask them a question so they can respond in the comments.
Good starter questions could be:
Leave a comment to let me know where you're watching from today
I'm here enjoying my morning coffee. I take mine black. Leave a comment about how you like your coffee!
An A/B question that has 2 options: We're talking about getting up early or staying up late. Are you a morning person or a night owl? Tell us in the comments.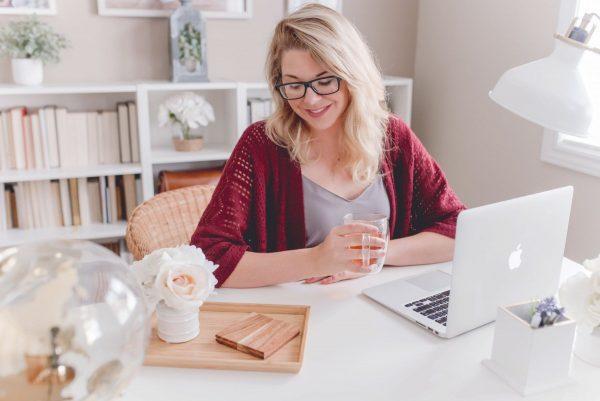 Starter questions are purely meant to drive engagement. Don't start out with something controversial or in-depth – just a simple question that's easy to answer.
The longer the video, the more times you'll want to ask for engagement. Some people will tune in late. Some people will watch later in the day, and some people will be happy to respond multiple times during your broadcast, so ask an engagement question at the beginning, and at the end, and every 4-5 minutes in the middle.
Middle engagement questions would be open-ended questions about your topic:
Do you have a question about our organization or service?
What would you like to see change with this topic moving forward?
How can we better serve you in this area?
Ending engagement questions could be about the next broadcast:
Next time we're talking about that topic. What questions can we answer for you?
Respond to engagement as it's happening
When someone responds to your question, read it out during the broadcast and respond back. Ask them a follow-up question. Answer a question they put in the comments about your topic. Create a conversation in your video with the comments rather than just a monologue.
Aim for longer than 10 minutes
In this article from VidYard, they notice that it takes at least 10 minutes for your online viewers to find out you're doing a live video:

Don't draw our a 60-second announcement to 10 minutes to hit this metric, but instead of 2 or 3 videos at 4 minutes each, for example, go longer on a single video with multiple topics.
Go live with someone else
For me, going live is about connection and conversation. Also, knowing that we want to hit a metric of 10 minutes in a best-case scenario, having a partner can really help the conversation feel more like a conversation, and less like a monologue for 10 minutes.
It's also helpful if one person is 'interviewing' the other – asking questions, watching comments for more questions, and introducing the topic.
My personal favorite tool for this is Be.Live because there is no software to download so it's always ready to go, you can 'produce' on the fly (meaning switching from shared screen to full-screen of you or your guest) and you can see comments in real-time and put them up on the screen like a lower third.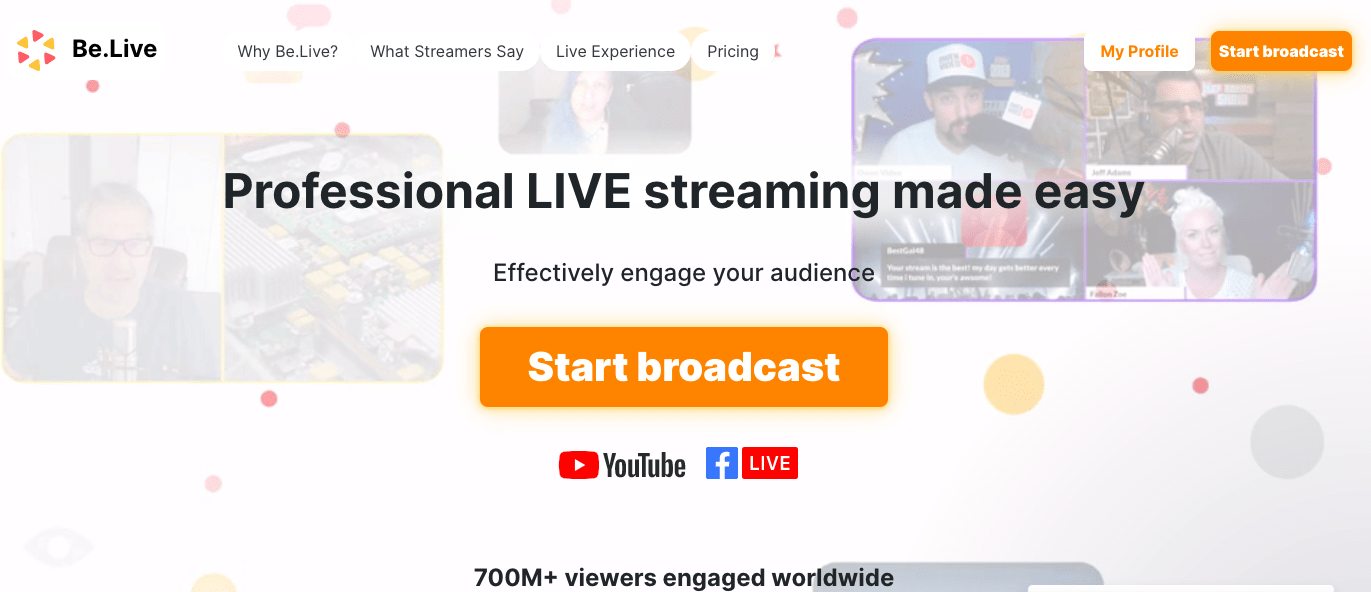 You can also add subtitles (like your website address) and now media to show during your broadcast.
Have an idea about going live on Social Media that didn't make this list? Share it below so we can learn together: